29 Jul 2020
BEHIND THE BRAND: Doodle Dents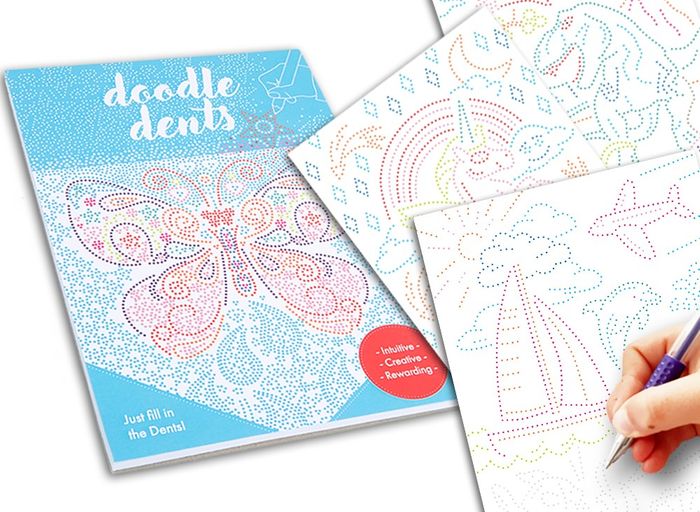 Hey Chris, can you tell us a little bit about the brand Doodle Dents?
My name is Chris Golding, founder of Doodle Dents. The inventor and therefore credit of Doodle Dents however belongs to my daughter, who was six years old at the time. It all started one day when I was working from home and my middle child was off school unwell. I had a deadline to meet and was struggling to balance entertaining my child and working. After some pretty bad, but typical parenting of bribery, sweets, iPad, my daughter just kept interrupting me, so I lost it! "I don't care what you do, but if you want to sit near me, do something and keep quiet"! An hour past, I was not disturbed and I found my daughter colouring the dents in the kitchen roll. She was engrossed, it was amazing.
Fast forward two years and I lost my job. Looking for work full time is soul destroying. You can't do it all day every day, so my wife reminded me about Doodle Dents. That great idea that I never did anything about because of having a full time job and three children. Anyway, my routine became job hunting in the morning then researching & planning feasibility of Doodle Dents in the afternoon. Now I split my time between the two - being a marketing consultant and growing Doodle Dents. After 15 years of full time employment it's quite a different lifestyle.
What a great story, can you tell us more about the product?
It's so simple. There are no instructions needed. It's intuitive, mindful, creative and rewarding. Just fill the dents. It also makes me laugh as the original idea was to fill the dents using gel pens as this gives the best effect and I used to get a bit cross when I saw people 'do it wrong', but I have realised that there are no rules and as long as the person doing it is having fun. You really can Doodle Dent in many different ways and we've had such positive feedback on the product.
The ideas behind the designs are led by my children. It's their imaginations and interests that drive the magic and engagement behind Doodle Dents and I think that's what makes our story so interesting. Once the idea is established I work with a designer and print specialist to ensure it works in practice. There is a real art to getting it just right and has taken some time to perfect. Saying that, even now we are learning little secrets of how to improve each time.
So what materials are used to create the product?
All the materials are responsibly sourced and produced in Hampshire. We use natural and renewable FSC certified material whilst being 100% recyclable and biodegradable. This is super important to me. In my opinion, even if it increases cost, that the benefit to the environment and supporting local industry are worth sacrificing a little extra margin. Of course you have to make a profit to make the business worthwhile, but I strive to produce a product and brand that delivers joy over and above unnecessary 'greed'.
Can you tell us about the biggest highlight for the brand?
Oh definitely my first 'market'. It's crazy as I've worked for global brands and exhibited at shows with budgets over £50K, but I've never been as nervous as when I unveiled my pull up banner and displayed my merchandise and literature at a local school fair. I'm sure other founders have experienced exactly the same - the nerves of unveiling your own business and brand in front of unforgiving consumers compares to nothing else.
The passion you have for the brand is really inspiring, what do you love the most about Doodle Dents?
It's hard to summarise in so little words but I love that it genuinely brings joy and benefits to those who do it and the fact that it was and still is inspired by my own children. Personally, the sense of achievement from creating a business and brand out of nothing makes it all worthwhile.
We are so excited for you to join us as part of our Spotted sector, what do you hope to gain from your first trade show?
It's simple - build a relationship and supply Doodle Dents to retailers and open larger distribution channels. We just want more people to enjoy Doodle Dents and keep moving the business forward. We really do have so many plans!
Can you tell us about your new collections/ranges that you'll be launching at Top Drawer?
In addition to the existing range, we are offering the chance to develop bespoke co-branded Doodle Dents with the right partner(s).
Looking ahead to Christmas, what products do you see being popular?
The Travel Wallet (which ironically we launched a week before lockdown!) is proving popular as people are embarking on their staycation (or not) holidays again. The whole range was really well received last Christmas and we feel it's a perfect gift, so fingers crossed for similar results this year.
Talk us through any personal favourites from your new collection?
I love sunflowers - I currently have about 40 sunflowers in the garden which I planted with the kids at the start of lockdown. So I was thrilled when the kids suggested a sunflower Doodle Dents. Plus, there is one from the Christmas range we call 'the idyllic Christmas scene'. It just has a really classic, magical and calming feel to it.
We are obviously in very unprecedented times. What are you doing to stay positive and keep the brand looking ahead?
There are so many avenues for Doodle Dents and the future is extremely exciting. The impact of Covid-19 has meant we have missed many fairs which provide a good opportunity to spread the word in person, plus as organisations and businesses have had to focus on their own problems there has been few opportunities to introduce Doodle Dents to trade - so we are a little behind where I wanted to be in that.
However, on a positive note - we have seen a significant uplift in direct to consumer sales since March. It's meant lots of stock kept at home (which my wife isn't too pleased about) and lots of packing, labelling and trips to the local post office (who have been amazingly accommodating as I leave boxes for them to process when there isn't a queue outside)
We have 3 young children so it's been quite a full on lockdown with ups and downs - like many no doubt. To stay positive, a client agreed a retainer with me providing some stability and I'm lucky that my wife is highly organised and forward thinking as she has kept the kids and me in line.
Until you meet them at Top Drawer, be sure to check out https://www.doodledents.co.uk/ for more information.