22 Dec 2021
BEHIND THE BRAND | CoconuTacha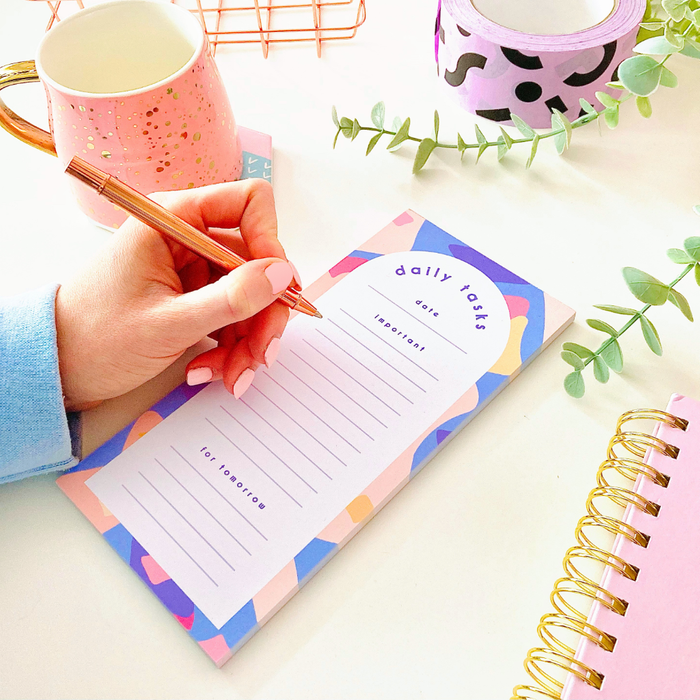 Can you give an introduction to who you are and who/what your brand is and how long your brand has been around for? Is this your first Top Drawer?
Hi! My name is Natacha and I am the founder and Director of stationery brand, CoconuTacha (just like 'coconut' and 'tasha'!). CoconuTacha is a modern stationery company inspired by graphic design and illustration using bright, uplifting and inspiring colour palettes and imagery. This will be my first Top Drawer show in London after running the business for 7 years and I couldn't be more excited.
How did you start your brand?
I started the brand when I was in university studying Graphic Communication. It was meant to bring in a little income on the side and help me fund my studies. It did just that and I pursued a full-time career in graphic design after graduation for a company in Penarth as an in-house designer. Realising that my passions lay within my own business, I left the company in 2017 to pursue CoconuTacha full time and haven't looked back since! I started the business in my bedroom in my parents house as a teenager, it's gradually grown slowly but surely over the years and I couldn't be more proud of where I am today; a small studio in my own home, funded entirely by my own, independent business. It's definitely something that I am proud of.
What's been your biggest highlight whilst creating your brand? Why is it you love what you do?
The freedom. I love being my own boss and having the freedom to create whatever I want, whenever and wherever. I am so lucky to have such a loyal following on Instagram and YouTube. They've grown up with me and my brand over the years. The community is excellent and so fulfilling. Being your own boss can sometimes feel lonely and isolating, but not with the power of social media when harnessed correctly.
Knowing what you do now, what advice would you give to yourself when you were first starting out?
I'd tell my younger self to never give up. It definitely gets harder as the business grows, but you will overcome the hardships with sheer determination. Go and find your community ASAP. They are out there. Share your work on social media and find like-minded people. Even though you run a business alone, you aren't.
Can you tell us about your new collections/ranges that you'll be launching at Top Drawer?
Since my first trade show in February 2020, I've released many new collections. At Top Drawer, I will be showcasing the new Girl Boss collection, as well as the Icon Illustration collection for the first time. I'm very excited about these collections. Both are designed to uplift, inspire and promote creativity. The cards are encouraged to be used as artwork after the occasion has passed, making them sustainable and a nice addition to any living space or working environment.
Any personal favourites from your new collection?
My favourite right now has to be my newest stationery collection - Spring Daisies. It has such a warm, Spring and Summer vibe to the design whilst still remaining minimal and providing plenty of space for the user to write. The stationery sets have had such a positive response both on and off social media, so I'm excited to be showing these at Top Drawer for the very first time.