14 Mar 2022
Behind the Brand | Blade & Rose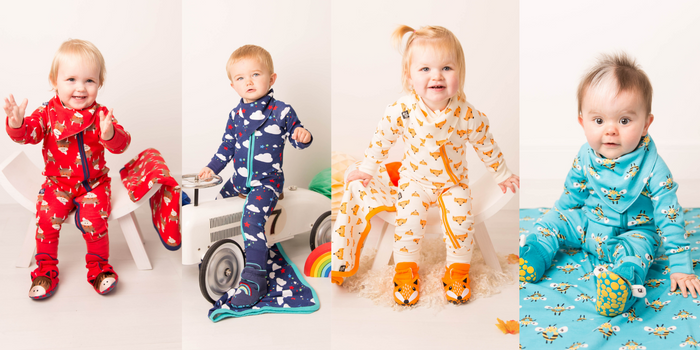 How did you start your brand?
Blade & Rose is the middle names of my children Harvey Blade & Issey Rose. The idea for the brand was born whilst I was on maternity leave, as I discovered a gap in the market. I was looking for comfortable, vibrant, premium leggings as I was dressing my baby in boring tights and leggings as at that time that's all that was available. Her nappy was always on show, so I wanted to make a feature of the crawling nappy bum. So, I decided to develop my own leggings featuring cheeky fun characters on the bottom. I designed the initial concept myself and spent months contacting companies to develop and sample my idea. Eventually I found a manufacturer that could make them in the quality I was looking for and I ordered my very first shipment, of just four legging designs. I took these to shops and sold them directly, every shop I walked in bought from me straight away as they were so different and adorable, and everyone loved them just as much as I did.
Blade & Rose are the original brand to develop the idea of premium knitted leggings with iconic characters on the bottom in the UK and we are very proud of that. We ensure new fun designs are launched each year. Our inspiration is taken from our immediate surroundings of the beautiful lake district, and also our love for animals. Our values are premium, vibrant, comfortable, ethical and sustainable.
We are now on year 12 of our journey and have a fantastic team that have helped grow into the brand we are today. The image below is Issey Rose modelling the very 1st legging design.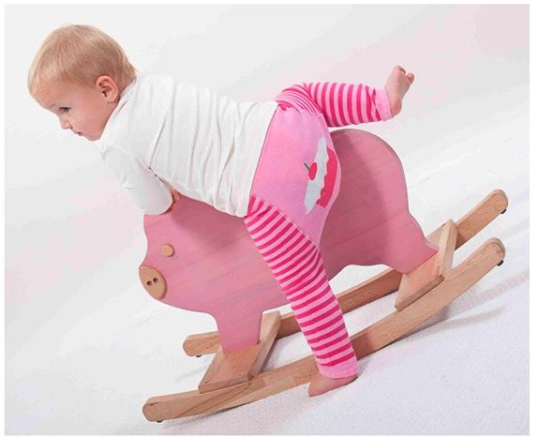 What's been your biggest highlight whilst creating your brand? Why is it you love what you do?
Seeing loyal customers and peoples love for Blade & Rose is the ultimate highlight for our family brand. In the years, Blade & Rose have won several prestigious awards including Junior Design Awards, Love by Parents, Made for Mums and a Gift Of The Year Award.
We will continue to keep launching new designs and concepts as we love what we do, and our customers' amazing feedback will never fail to make us smile.
Knowing what you do now, what advice would you give to yourself when you were first starting out?
My advice would be to believe in your product, do your research, and don't invest too much in the early stages (unless you are lucky and already have investments). We grew slowly due to the fact that we were self-funded and didn't have the money to invest in huge ranges and big marketing campaigns. Our way worked and each year our profits were invested back into the company to enable us to grow and launch more designs and products. I guess I am especially proud of Blade & Rose as we grew organically from passion and a great idea.
Can you tell us about your new collections/ranges that you launched at Top Drawer?
2022 new launches include a very exciting collaboration with Penguin Ventures to launch an iconic collection featuring none other than children's favourite, Peter Rabbit himself! Both brands are born from the Lake District and take inspiration from the beautiful countryside around them.
More new products launched in our most popular Blade & Rose styles and characters, include zip rompers, bibs and blankets. They are available in Highland Cow, Buzzy Bee, Fox and Weather options. Little ones will look simply adorable in all 4 of these different styles.
New products magical Colour Changing Recycled Raincoats, the Raincoats are available in a full range of unmistakable Blade & Rose styles and characters. The range consists of everyone's favourite Highland Cow, Magical Unicorn for little princesses and the Weather print.
Last but not least ! Blade & Rose, Britain's iconic children's fashion brand, are getting babes everywhere ready for sunshine this year pioneering their exclusive Spring /Summer 2022 collection! This awesome sun-shiny new collection for 2022 features a never-before seen range of brightly coloured short sleeved shirts, knitted shorts, cotton hats, zip up cotton rompers, summer cotton leggings and even a packable trilby hat.
Any personal favorites from your new collection?
I can't pick one, I love them all.
How did Top Drawer go for your brand? What was your highlight?
The terrible weather did cause disrupt for people visiting the show but the Blade & Rose team made it. The highlight was showcasing product launches to new and existing accounts. The Top Drawer management team were wonderful and well organized.