10 Jan 2022
BEHIND THE BRAND | Blackmarket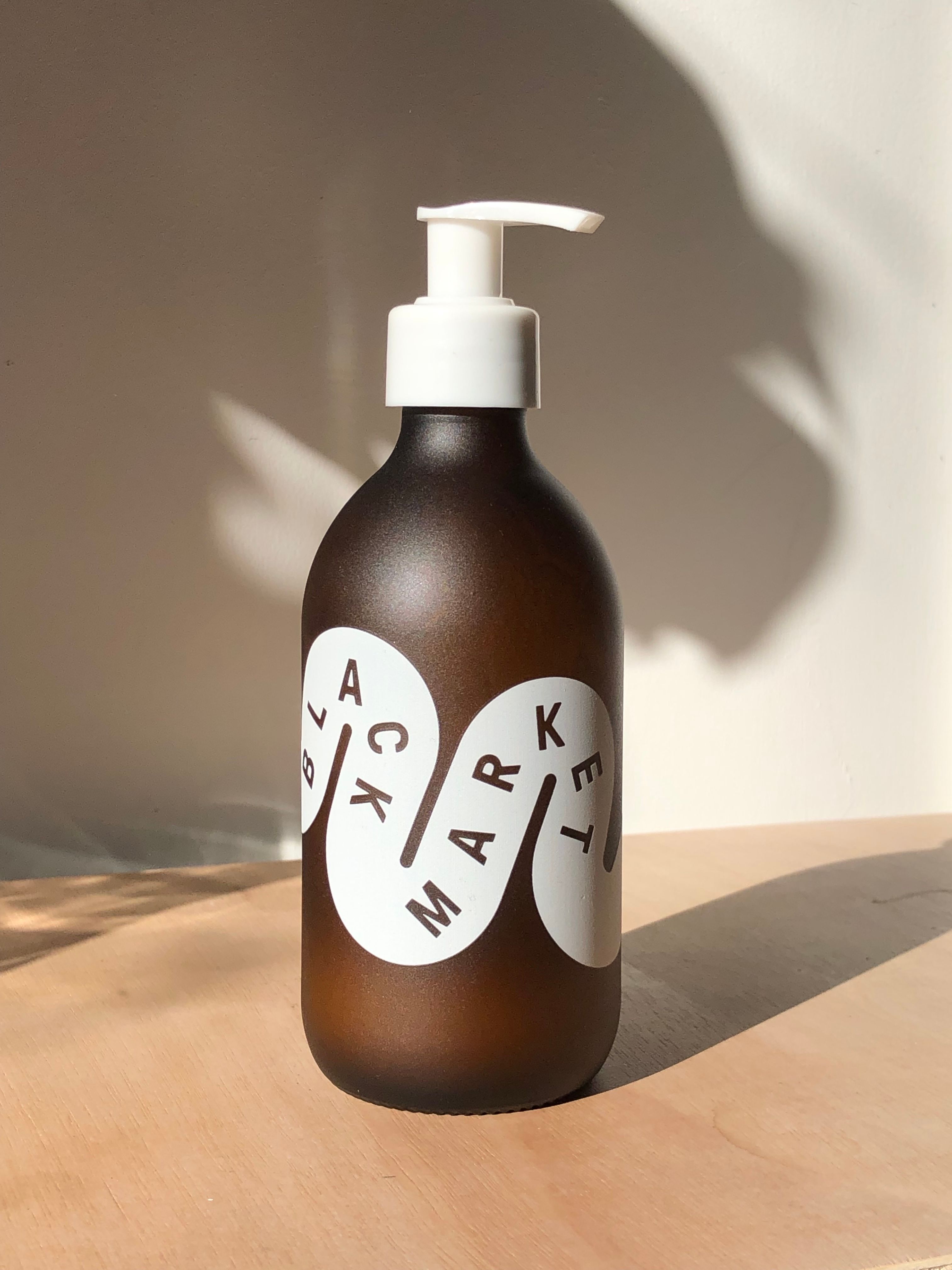 Can you give an introduction to who you are and who/what your brand is and how long your brand has been around for? Is this your first Top Drawer?
I'm Martina, the founder of Blackmarket, an innovative and award winning startup shaking up the personal care space. We make liquid handwash, without single-use plastic packaging. Our company has just started trading, after a successful crowdfunding campaign where we reached 123% of our funding goal. It is our first time exhibiting at Top Drawer and we are very excited to be part of the event.
How did you start your brand?
I have worked in the packaging design industry for many years, helping big companies such as Unilever and P&G develop their brands. I realised that the work I was doing played a role in contributing to climate change. So I decided to do something about it. I developed a completely new delivery method for personal care products, starting with handwash. I discovered that most handwash products are made of 80% water. It seemed inefficient to transport water around the world, when we have safe drinking water at home. I then realised that I could package a soap concentrate in a dissolvable film, like dishwasher tablets, so you can just mix the soap at home. Removing water means that Blackmarket is 95% lighter than traditional brands, reducing carbon emissions from transport. After a period of research and development, to create a prototype and test it with consumers, Blackmarket launched. All our products are concentrates, packaged in a dissolvable film, which you mix with water.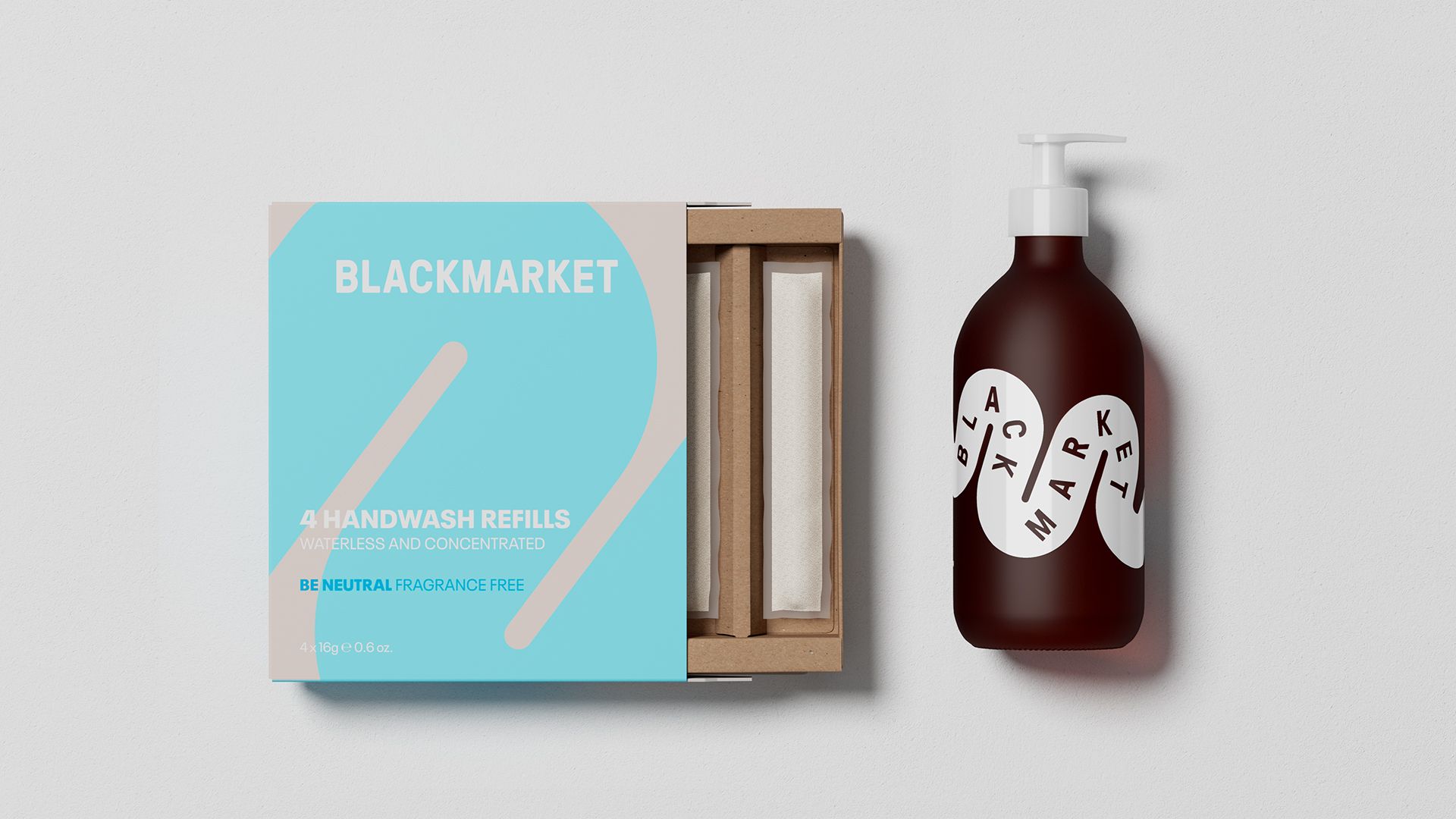 What's been your biggest highlight whilst creating your brand? Why is it you love what you do?
One of the most rewarding moments was winning an innovation award from the University of the Arts London (UAL), the award came with a grant, which helped us fund the cost of the product launch. Another big highlight was the crowdfunding campaign, a community of supporters have embraced Blackmarket and the funding target was surpassed, reaching 123% of the goal.
Knowing what you do now, what advice would you give to yourself when you were first starting out?
The advice I would give myself is to be a lot more open about my ideas. As an entrepreneur you often are scared that someone will "steal" your idea. The reality is very different, people are usually not motivated to do what you are doing, but if you do tell them about your plans, they will help you. I think we often underestimate strangers willingness to help someone who is pursuing something meaningful. This doesn't mean you should randomly ask anyone for anything. Being open about what you are working on really helps you articulate your vision, what your product stands for and how it works.
Another thing I wish I had known, it to embrace and enjoy uncertainty. Starting a business is scary and involves risk, managing your own fears is critical. Your ability to adapt to uncertainty is an incredibly powerful skill.
Can you tell us about your new collections/ranges that you'll be launching at Top Drawer?
Blackmarket's current range focuses on handwash, an everyday product that has become increasingly important in the last few years. Our handwash comes in two different variants, Wild Lavender and Fragrance Free. More scents are already in development, to create a collection of incredible fragrances. Our refills come in two different pack sizes, a single stick, or a set of 4. Each refill stick makes 250ml of handwash. All our products can be combined to create starter or gifting sets, with the addition of a linen hand towel they make a perfect gift.
Any personal favourites from your new collection?
Well I'm incredibly biased! I would say our refillable glass bottle is one of my personal favourites… The wave design incorporates our logo, but also tells the story of the refill process. Starting at the top with the water fill mark, which is the start of the journey, ending with a prompt asking if you are refill ready. We wanted to visually communicate how important it is to refill your handwash, in order to make it a more sustainable choice. The glass is frosted with a matt finish, while the design is in a glossy white. We wanted to create a bottle people would be proud to have by their sink.