16 Apr 2020
9 Things To Do When Business Is Slow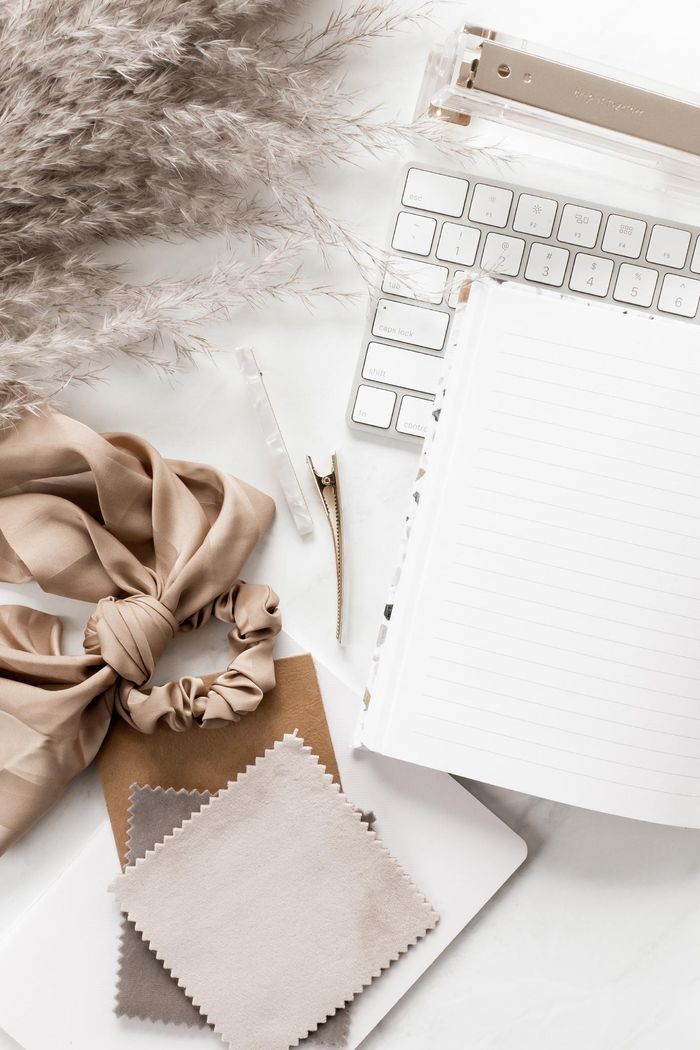 Whether you're dealing with an unexpected halt to your business due to, oh I don't know, perhaps a global pandemic, or you're just experiencing a slightly slower month, it can feel unnerving as a business owner.
In all honesty, it's a scary feeling when the emails suddenly die down or orders are slower than usual. But, with any business, whether you're a designer, a shop owner or a stylist, there are always going to be down times. There will be highs. And lows. But it's how you react to the lower times which will really help you to succeed.
When the busy season arrives – and it will – you'll be grateful for month's like this when you have the breathing space to regroup, recharge and get yourself ready for the season ahead.
With that said, here are 9 things to do when business is slow. And sadly, it doesn't include taking a two week trip to a deserted island, with blue skies and cocktails galore – although that most definitely needs to be scheduled somewhere.
1. Brainstorm new ideas
Having the mind capacity and space to be able to brainstorm new ideas is one of the reasons I'm thankful for the downtime we're experiencing right now. Grab a notebook (any excuse for new stationery), a pen, and start to jot down new ideas for your business. Are there other ways of making revenue right now? Is there a list of people you'd like to collaborate with? Do you want to create some new feature ideas you could potentially pitch to a magazine? Get writing those ideas down.
2. Become inspired again
Take a day or two to become inspired once again. We all have periods where we feel like our ideas have literally all dried up, or we struggle to shift that creative block. Be grateful for this time to read magazines, to go for a walk and listen to a podcast, to have a Zoom meeting with fellow business owners to mastermind ideas for when business picks up, to work out what new seasonal trends you'll be honing in on, to spend time working on visual merchandising, or to spend time away from the computer and just letting your mind run wild – you'll soon have those creative juices flowing again in no time.
3. Get financially organised
Have you done your tax return yet? Use this downtime wisely and get yourself financially organised, whether that's sorting out a tax system for the rest of the year, working out a budget to make sure you're saving just as much as you're spending, opening a pension scheme or looking into a Lifetime ISA, or moving credit cards to a 0% interest rate so you're not paying more than you need to be.
4. Work on your Pinterest game
I was lucky enough to be invited to an event with Pinterest in London recently to hear more about the platform and what we can expect for the coming year. It's a huge driver of traffic for my business personally and if I could recommend doing just one thing in this quiet period, it would be to work on your Pinterest game. If you have a blog, it can direct traffic right back to your site, or likewise, if you're a brand or a store owner, you can link products and drive those sales. You don't even need to spend time every day Pinnin' – just join a scheduling site like Tailwind and it does the job for you. There are so many amazing ways to use Pinterest, and with 250 million people worldwide using it on a daily basis, now's the time to get a hang of it.
5. Plan your social media strategically
Although I'm fairly organised in day-to-day life, I'm the worst of planners when it comes to social media. I don't know what I'm going to Instagram until I'm sat staring at my phone, realising it's been a week since I last uploaded. But what this quiet period has allowed me to do is plan a solid schedule of social content for the weeks ahead. By using Tweetdeck, Planoly, Tailwind and Facebook Publisher, I'm able to plan content now to keep my audience engaged with my brand over the next couple of months.
6. Work on your SEO
Is your website SEO friendly? Use the next couple of weeks to go through your website and make sure is it as search engine friendly as it should be, that images are up to date, that you've created Pins for everything, and there are zero broken links. Tech issues like this are something I'll often put off because I'm too busy but now's the perfect time to get everything fine-tuned and in full working order.
7. Learn a new skill
As well as using this time to brainstorm and become inspired again, quieter periods in business are the ideal time to learn a new skill. Do you want to work on your photography? Or are you looking to up your Photoshop game? Is there a skill that's missing from your business that you could be mastering right now? Now's the time to get a head start.
8. Create an audience survey
You think you know what your audience want? Wrong. With a new audience arriving frequently, and the tastes of loyal customers changing, one thing I like to do is create an annual survey. This is where I discover what's needed from my business, what my readers are looking for, how I can up my game and what I need to change. Because, as you already know, your customer or reader should be at the heart of everything you do.
9. Update your branding
Finally, does your branding need a little refresh? Are your colours or logo feeling a little tired? If so, then use this time to moodboard some new creatives and speak to a designer – or even do it yourself – about giving your site a facelift. It doesn't need to be a complete overhaul, but do make sure your branding is consistent across your website, your social media channels, your paperwork etc. It's so nice when you recognise a brand instantly, no matter what platform, because of consistently beautiful branding. I wrote a post on finding your ideal client avatar, which might be useful if you find yourself wondering just who your customer is right now.
Quiet periods in business can feel unnerving, there's no denying that, but it's inevitable within any industry. The way to remain positive is to use this time wisely to continue growing your brand, concentrate on self-care and plan for the future. Because, believe me, in a few months you'll be craving a little downtime when life suddenly gets busy again. Embrace this period.
Victoria Jackson is founder of multi-award winning interior design blog, Apartment Number 4, which helps readers create a beautiful home on a budget. With a distinct coastal, bohemian style, Victoria is also the editor of 4 Magazine, a free monthly e-zine which is directly shoppable from the comfort of the readers armchair.