25 May 2018
8 Tips to Maximizing Your Chances of Press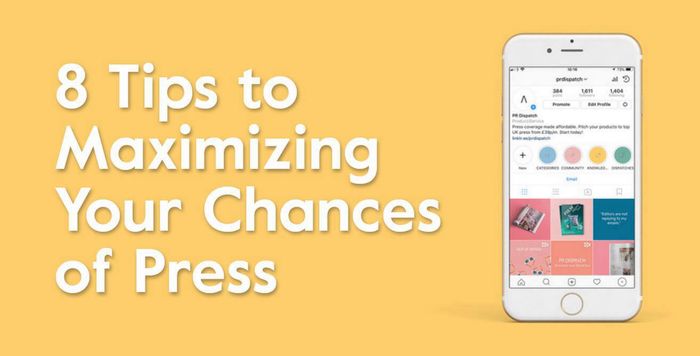 8 Tips to Maximizing Your Chances of Press
You've done the research. You have the product. You've started the business. What's next? Getting noticed - otherwise known as PR. Having your product featured in press, print or digital, can mean a huge increase in sales and traffic for your brand so it's important to know how to maximize your chances of making this happen.
First Impressions Count
If you're approaching an editor for coverage you need to be organized. Editors are busy people so if you don't have everything prepared in advance you're much less likely to hear back from them. Make sure your product imagery is of a high standard and ready to send off with your original email or when requested by the editor. Not keeping the editor waiting will present you and your brand as organized and professional, leaving a great first impression.
A Working Website
The first thing editors will be looking at when they hear about your brand will be your website. Make sure navigation is easy, all your links work, and the website itself is visually appealing. Big media platforms will only give press to brands that are of a high standard to give the best to their audiences.
Do Your Research
Never expect to be given press in a media outlet that you have not read. When you email an editor the email should be personal to that employee and the outlet they work for. As you can imagine, without doing your research you will have no idea of the brand's tone of voice, their brand values, or their brand expectations. If you're passionate about getting your product in a particular digital or print publication read, read, and read some more about them.
Stay Social
One email won't necessarily get your products press. If the editor recognizes or remembers your name/your brand name then they are more likely to take an interest. You can do this by following the publication and its employees on social media. It's a well-known fact that editors find products to feature all over the place, but particularly on social media so make sure your presence is known.
Pitch Perfect
Another great way to get your email noticed is to have a catchy subject line. This can be a play on words, a form of alliteration, or something bold and direct. Make sure it doesn't drown unnoticed in the sea of a thousand emails the editor receives on a daily basis. Stand out just like you want your brand to on that product feature page.
Follow Up
We're all human and editors are no less. We accidentally delete emails, we read them and forget them, and we get distracted and move on. This can leave your perfect pitch unread and you uncontacted. It's always good to send a follow up email if you don't hear anything back. After this, if you still are not contacted, change the angle of your pitch. Put a new creative spin on it and share your product in a new and innovative way. Seeing your products in a new light can make the editor rethink.
PR Your PR
When you get a good piece of press coverage, especially your first one, you're going to want to tell everyone, and why shouldn't you? It's a great achievement and a great feeling so share it all over the place. Share it with your mum, your brother, your friends, but most importantly share it on online. This lets people know that your product is good enough to be in various magazines and publications, which can increase sales. It also allows other publications to see that your brand is up and coming and being featured elsewhere. One feature can lead to another and another and that can be enhanced through PR-ing your PR. Shout about it on your website, social media, and blogs.
Patience and Persistence
Finally, getting press takes a lot of patience and persistence. You won't get featured from every email you send and at first it may seem like a laborious process, but keep at it. Getting press makes you want to jump up and down for joy and that feeling, along with the increase in sales and traffic, is worth the hard work. Give it time and keep pushing forward.