06 Aug 2019
The 5 essential steps to securing great PR for your brand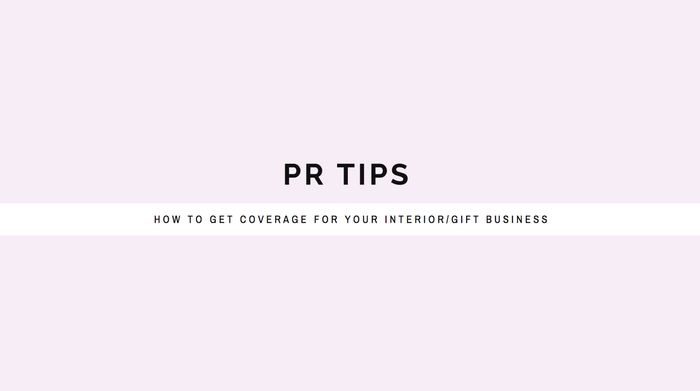 If getting your products featured by magazines, blogs and top influencers is on the top of your list - read on! Nicola Snell, Founder of Press Loft, has compiled some tips for getting publicity in the home décor, gifts, fashion and lifestyle media:
1. Read, Read, Read!
Every home décor, gift or lifestyle media outlet will have its own personality. You need to learn about their style and the audience they appeal to. A little research will also help you to understand the type of content they like to create and the way in which they present products. This will help you decide which publications and blogs to pitch to and how to structure your pitch. You can read a range of magazines on platforms like Readly and Magzster, but there is nothing quite like supporting the magazines you want to be in by subscribing to them.
2. Create a PR Calendar
Be organised and ensure you don't miss an important date by creating a PR calendar for the year. Create a spreadsheet then add the dates and names of all holidays, seasons, public holidays, events and important days throughout the year. Next to each date, list any relevant products from your range. You then need to add the dates when you are going to pitch these products, remembering that long lead journalists work 4 to 5 months in advance and short lead journalists, bloggers and influencers work only 1 to 4 weeks in advance.
3. Write a Catchy Press Release
The press release you send to a publication or website needs to be well-written and free from grammatical errors. Keep it short and sweet and rely on the journalist to get in touch if they need any extra info. If you have time, or they are a key target publication, adapt the introductory email to the journalist you're pitching to.
Above all, remember that a journalist, blogger or influencer needs an angle if they're going to write about your brand or your products. So emphasise what is particularly relevant, new, on-trend or different about the product you're pitching. Don't forget to include your contact details, website, prices and images.
4. Pitch Your Products for Gift Guides
The gift guides can be a great place to showcase your products. Find out the key themes for the gift guides and consider which of your products work best as gifts for those specific occasions: price, packaging and colour all play a part. For instance, red and gold items sell well at Christmas, whilst pastel coloured products are better for Mother's Day.
If you have time, it is a great idea to call or email the Editorial Assistant to ask for the contact information of who is working on the gift guides. You may be lucky enough to be given the information!
When pitching items for the gift guides, think like an Editor. That means working out which common gift guide categories your items could fall into. It could be "Gifts for under £10" or "Gifts for a Gadget Lover" or "Gifts for a Trendsetting Teen". Pitching with this in mind makes it easier for an editor to see where your products will fit with their format. The items you pitch should always have accompanying high res photography.
5. New = News
Journalists will always want to write about the latest product launches. So even if there is no trend/gifting season associated with a product you may well generate great coverage simply because your product is new! And if your product is new plus associated with a key trend then you could be onto a winner!
About Press Loft
Press Loft is the leading international PR platform where interior & gift brands showcase their products to journalists, bloggers & influencers. Their PR tool allows companies to easily secure press coverage & quality backlinks for SEO by connecting with our extensive network of 18,000 journalists, bloggers and influencers.
Follow Press Loft on Instagram @pressloft